COMBAT! FAN PAGE

What's New on the Site?

Updates 07/23/2012, I added photos to the following episode reviews:

Update 06/30/2012
NOTE: I have just migrated the website to a new host server. Unfortunately, I am unable to get the user polls (AdvancedPoll) for the episodes to work on this new host. I am working on the problem. If I am unable to fix it, the polls will be scrapped. Sorry!

UPDATES:

March 23, 2012: added Facebook LIKE button for main page and also a LIKE Box for the Combat! Facebook page. Plus, you can now leave comments on bottom of this page via Facebook.


2011: NOTES Hi visitors! My summer project is a general clean-up of this website. This website been up for many, many years -- since 1995 -- and I'm revisiting all the pages, cleaning up any broken links and updating information. If you see something that needs fixing, please let me know! The forum, alas, is broken - you can view older comments but can't add any new comments. Even so, I hope you enjoy the website and will come visit us again.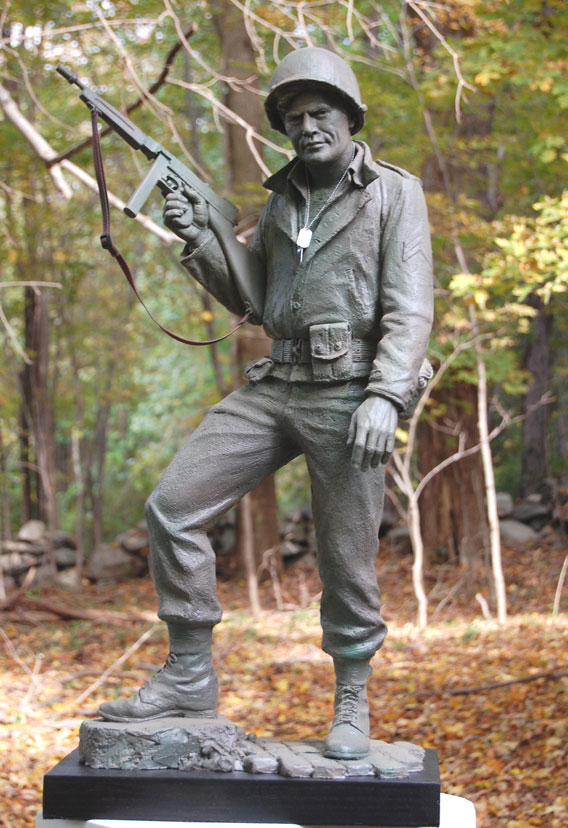 Saunders in Bronze
Artist (and Combat! fan) Michael Keropian has designed and created a truly superb work of art honoring Sergeant Saunders. Please visit his website at keropiansculpture.com/sgt_saunders.html for more photos and further information.
He has also designed a stunning bust of our hero.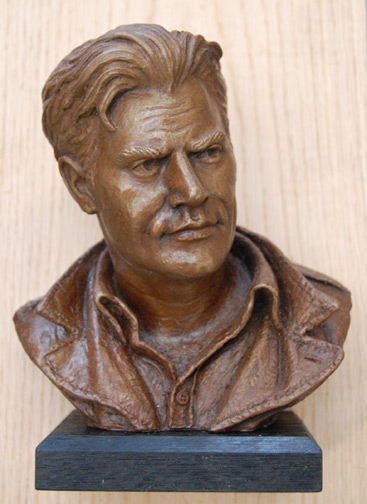 SITE UPDATES:
NOTE: I'm testing out a "rate the episode" feature that lets you not only give your own 0 to 4-bayonet rating, but also lets you leave comments. Please check out this feature by visiting any of the episode reviews on the site. If you catch any errors, please let me know!
August 13, 2011:
Corrected Caje Woundings page (list of wounds received by Caje). Thank you Janet Aldrich for catching that I was missing his wounding in "What Are the Bugles Blowin' For? Part 2"
Added information about METV showing combat (The Show). Thank you Wayne Tuttle for updating me on this info.
August 2, 2011:
July 28, 2011: Recently updated pages:
Added photos to: : The Casket, The First Day, Finest Hour, The Raider, Breakout
Added new episode pages: Gitty, Run, Sheep, Run, One at a Time, The Ringer, Ask Me No Questions
Adding "Fans Rate the Episodes" code to 4th season episodes.
July 26, 2011: Recently updated pages:
July 25, 2011: Recently updated pages:
July 24, 2011: Recently updated pages:
June, 2011: General clean-up of broken and out-dated links
---
COMBAT! MARATHON on MEMORIAL DAY .... watch in-between the shows for original material. The "Back to the Front" special is 29 minutes, but you'll also get 25 minutes of original interviews tucked in between the episodes on Memorial Day.
NEWS for May, 2004: COMBAT! marathon on Encore Action Channel on Memorial day. Also features a half-hour documentary, "Combat! Back to the Front" which includes interviews of Shecky Greene, Steve Rogers, Robert Altman, screenwriter Esther Mitchell, author Jo Davidsmeyer, and more! Hosted by Tom Skerritt. See more about COMBAT! BACK TO FRONT...
NEWS for February, 2004: COMBAT! DVDs are coming!
At long last, Combat! is coming out on DVD. First season is scheduled to be released by Image Entertainment in July of this year. Two half-season sets will be available, and Image is planning to release them as affordable sets. Included will be an original documentary about the making of COMBAT! plus other extras!
New on this site in February:
December, 2003:
Tentatively planned for Memorial Day 2004, a documentary of the making of COMBAT! to air on the Encore Action channel. Features interviews with cast members, directors, and more!
On December 29 tune in to the Joe Mazza radio show for COMBAT! discussion with Jo Davidsmeyer. Hear the latest news, call in with your questions!
New episode review for "Decision" starring James Franciscus
November, 2003: COMBAT! returned to Encore Action Channel on Veteran's Day, November 11, 2003 with an all-day marathon!
August, 2003:
Photos of Combat! cast at Korbel winery
July, 2003:
Combat! Episode review of Ask Me No Questions guest starring Claude Akins
May 9, 2003:
Combat! Episode review of Hills Are for Heroes
Add your own caption to this unique Combat! photos
May 7, 2003: Many of you have enjoyed the original Combat! fan fiction by Mary Wright. Unfortunately, she is no longer able to maintain her Dog Face Tales web site. But, there is good news — Mary has agreed to let us host her fan fiction on the CombatFan site. So, please visit Mary's own version of our Combat! squad at Dog Face Tales
April 7, 2003: Check out the online version of Rick Jason's autobiography Scrapbooks of My Mind
Additions to web site:
March 14, 2003: Episodes reviews of: The Flying Machine, Crossfire, Soldier of Fortune, Luck with Rainbows
Feb 25, 2003:
1965 Vic Morrow Interview : Saunders and Combat
Jan 21, 2003:
Complete appearances list, showing all episodes each actor appeared in and the number of times he was wounded and captured
Updates to the Actors in WWII list
Episode reviews:
Jan 4, 2003:
Dec 22, 2002:
Combat! Cast Training at Ft. Ord
The Sound of Combat! - info about the theme music and composer
New episode reviews:
Finest Hour Guests:Luise Rainer, Ramon Navarro
A wounded Hanley and men take shelter in chateau and are aided by countess
Hear No Evil: Saunders is struck deaf by an explosion, and is helped by a dog; guest Peter Haskell
Evasion : Hanley escapes from POW camp dressed as Albanian officer. Guest star Lloyd Bochner
Dec 20, 2002: Comments by John Bolt (actor who played Moseby Lovelace) about "The Squad"
Dec 7, 2002 - 1965 interview of Vic Morrow "He's TV Color Blind"

Nov 23-2002, Combat! 2003 Calendar now available.

Nov 1-2002, Episode reviews:

Oct-03-2002
Updated Vic Morrow filmography with additional photos (from Owen Marshal, A Step out of Line, Funeral for an Assasin)
Oct-03-2002
Episodes review:
Billy the Kid : Artillery lieutenant who is son of famous general has to prove himself Guests: Andrew Prine, Mike Masters, Ron Mills, Tom Mills, Norbert Sigfried,...
Beneath the Ashes : Hanley delays in delivering news that a soldier's wife is dying Guests: Chad Everett, Robert Fortier, Greg Mullavey, Noam Pitlik,...
Odyssey : Saunders fakes shell-shock after waking up in a German uniform Guests: Bert Freed, Sasha Hardin, Ivan Triesault, Tino Pollack,...
08/23/2002
New, Revised Combat! book has arrived!
The truck is now in the driveway delivering the new revised COMBAT! A Viewer's Companion book even as I type this. Yippee!!! Anyone who ordered a book & calendar, please note that all orders will go out late this evening. If you ordered by priority mail, your books should arrive in two to four days. If by media mail, one to three weeks.

Thank you, all! (For the newbies, for info about what I'm talking about, visit www.jodavidsmeyer.com/combat/book.html)
08/14/2002
Computer Crash! I just lost all my email for the year 2002. If you sent me a recent email that I haven't responded to, please email it again. Several fans recently sent me information about WWII actors, local airings of Combat!, and some bayonet corrections for me, and I'd love to include that info on site if you could just send it to me again. Thanks!
Updated The First Day review to include a photo and a production schedule (read where they filmed each scene and how long was alotted for each segment).
Please visit www.aboutww2.com for photos of WWII action in the Pacific.
08/04/2002
Episode review for The Hell Machine with guest star Frank Gorshin.
MSIE visitors can now automatically bookmark the site. Plus, if you do so by clicking on the "Bookmark this site" link at the top of the page, you'll then not only have a favorites bookmark to the site, but you'll also see a little, itty-bitty Sergeant Saunders on your Favorites list. The Bookmark option will not appear on Netscape browsers (sorry!)
07/27/2002 More additions to the Actors in WWII page.
07/23/2002 From the mailbag:
I remembered Rick saying at RECON 2000, and in a letter to Jo printed in her book how Rick had given away his rifle he carried on the show to Charlie Callas. I wrote to Charlie to inquire about IF he still had it
in his possession. Here is his reply.

Yo Steven:

Thanks for your e-mail. Enjoyed hearingfrom you. Sorry to say the Rifle was given to a friend of mine in 1985. He has since passed away and I have no idea what he did with it or where it could be. I remember the barrel being plugged with lead so it could not be fired. It was one of many Carbines that the Studio had. The Studio always has several back-ups of the same article - in case one busts etc. etc.

Stay well,
Charlie

I guess it is lost forever. To bad. It would have made one heck of a memento to all us fans to see it after all this time. I did write back tell Charlie how I enjoy his work too.

TOMMYGUN-OUT
07/20/2002 Updates:
07/12/2002 Updates:
07/09/2002
Additions to the list of actors who served in WWII — They Also Served
Updates to Canadians in WWII reading list To our Canadian visitors, you can enter Amazon.ca through any links marked with the Canadian flag or through the Shop Now! graphic below. Your purchases help to support this fan-run site. Thank you!

07/03/2002 New episode review for Season 3 episodes:
07/01/2002 New search function should improve searching all pages of site. Please check it out.
06/24/2002 Added pages about costumes/props and makeup used on the series.
Pages about producers Sellig J. Seligman, Robert Blees, and series creator Robert Pirosh.
From the Mailbag, Wed, 26 Jun 2002
I just wanted to share this with someone who would actually care (although you probably already knew this). In the recent movie John Q, as the police sniper closes in on our hero, he radios back to base, "Checkmate King Two, this is White Rook".
Regards,
Rick Behnke
Phoenix, AZ
Reply: Dear Rick: Thanks for the email. Yes, I actually care, and No, I didn't know this. So,the Saunders and Hanley legacy are infiltrating contemporary films. Yippee!
From the Mailbag, COMBAT! in North Carolina: I thought you'd like to know that the show has re-surfaced on WSKY-TV, Channel 4,which is based in Kitty Hawk, North Carolina, but covers a wide area of southeastern Virginia (Hampton Roads) and northeastern North Carolina. This station is carried on most area cable system. It airs on Sunday nights, two episodes a week, between 9 and 11 p.m. The WSKY-TV website (WSKY4.com) has a link, from their programming section, to the Combat web page. -- From Nate Custer
06/20/2002 Combat! is now being shown every day, Monday through Friday at 1:00 CST on channel 55 in Houston, Texas.
Combat! will return to the Encore Action Channel in 2003 (read more...)
06/17/2002 Combat! Book, revised 2002 version now at printer. Taking pre-orders, click here.
Check out fellow fan Susan Moar's great COMBAT! original art notecards and art prints available from her RiverWolf Gallery

06/02/2002 new Episode Reviews:
Local channel KAZT in Prescott, Arizona (which also serves the greater Phoenix area) broadcasts Combat at 8 PM on Sundays and Tuesdays. (Info provided by Dale Jenkins and Mike "Shooter851")
Actor Ron Soble, one of Combat's many outstanding guest stars, died on May 2 at the age of 72 of brain and lung cancer. Soble was a former Golden Gloves boxing champion in the 40s and went to Hollywood in the late 50s. He had a long and stellar career in movies and television. (Info provided by "Peacekeeper") He appeared in the episodes "Headcount" and "More than a Soldier."
05/29/2002:
Review of episode Dateline
Review of episode Point of View
Review of episode The Impostor
Vintage TV Guide article: The Private War on Lot 2
KICKSVILLE - Rockabilly Acetates Just saw this auction on eBay. New-release album that features Vic Morrow from the film The Blackboard Jungle on the cover. Nothing inside about Vic, just using his famous "record-smashing" scene as a cover. Anyone out there know who carries this album?
---
May 29, 2002 - Fellow fan Pat Sewell writes: Just thought you might be interested in my book Healers in World War II: Oral Histories of Medical Corps Personnel. I emailed Rick Jason before his death to let him know about the book. His book was about to be released. He was very gracious when I told him how much Combat and Conlan Carter's protrayal of a medic had impressed me.
Sincerely, Patricia W. Sewell(Pat)
Healers in World War II is published by McFarland & Company, Inc.,
• To order online from Amazon.com click here
• To order online from Barnes & Noble click here.
It is also available from Stone and Stone World War II book site.
April-10-2002: WWII bios of Lee Marvin and James Best, who both guested on Combat!
April-09-2002: Good-bye Elizabeth, Queen Mum. "As the bells of Westminster Abbey pealed, a World War II-vintage Lancaster bomber droned overhead with a Spitfire fighter at each wing, giving a final salute to the wartime queen." Also, John Agar, who guested on the Combat! episode "The Mockingbird" died today. He served in WWII as an Army Air Corps sergeant.
April-04-2002: Conlan's Emmy nomination
March-15-2002 - web site is in the process of a complete makeover. Please browse through the new electronic foxhole.
Additions:
Mar-10-2002... RETURNED! The Forums are now back online at CombatFan! This was a popular feature (especially the photo captions section) that had to be removed some time ago due to space considerations. On our new home, we've got plenty of room! Feel free to participate, start your own discussions, or think of something special... I'm open to sugggestions!
Rest in Peace: Earl Parker, who was Vic Morrow's stunt double and a stunt coordinator for Combat!, passed away Sunday, February 24, 2002. Photo collage by Sarge Ginnette.
Read more about Earl...
NEW in January 2002: Actors in WWII - a biography of Albert Salmi
COMBAT! 2002 calendars. Cost $12.99 plus shipping. [...learn more]

Recon 2002 the weekend of June 28-30 in Oakland. [...learn how to register]
Visit Lady Garand's Combat! photo site. She has added a new episode, "The Partisan." Great work!
---
RICK JASON'S ASHES
Cindy Jason has announced that Rick's ashes will be interred at Valentino Hall in Hollywood Forever cemetery on May 26th, 2001 at 3:00 pm. Any of his fans are welcome to attend the memorial service. Her only request is: don't wear black and no need to cry. Rick liked throwing parties, and this should be a party.
Hollywood Forever
6000 Santa Monica Boulevard
Hollywood, CA 90038
---------
Fellow Fan Steven Dawes (aka TommyGun) has put Rick Jason's final interview (KTRS) from September 2000 up on NAPSTER. Just search for "Rick Jason interview" in the title search. It is one long file, so be prepared for a long download on a slower modem -- some fans have reported difficulty in downloading this. Steve also wishes to extend thanks to Jill Pochek for saving this interview for all of us to enjoy.
----------
Some of Rick's personal items, including his gun collection, will be auctioned by Superior Galleries in Los Angeles some time in June. As more information is available, I will post on the announce list.
-----------
Donna Callison is at work organizing a 2002 COMBAT! cast reunion in California's wine country. No date is set yet, but target date is in the summer.
New on the COMBAT! web site:
March:
Many items in Dick Peabody's estate are now up for auction on eBay. These are being offered for sale by his wife, Tina Peabody. Click on the eBay button here to see what she has for sale, and check again throughout the upcoming months as she puts more items up for auction.
February:
Burt Kennedy, esteemed "Combat!" writer and director died at age 78 on February 15. [Read article] We were honored to have Burt as a guest at Recon '98 in the Simi Valley. He generously donated several of his original "Combat!" scripts for auction.
January:
With sadness, the original COMBAT! mailing list is being terminated. List-mom and creator Nancy Durgin is no longer able to maintain the two lists that have been in existence since 1994. If you are on the lists, you've been sent information about the new lists. If you wish to join, see below. Our heart-felt thanks to Nancy, whose hard work over the years have made Combat! fandom possible. Thanks White Rook!
The new discussion list CombatFan at eGroups.com is a free-wheeling, open forum for discussion of "Combat!" This is a very high-traffic list. Jo Davidsmeyer (aka King Two) is the list administrator. The list is mostly unmoderated. If flame-wars arise, the list will switch temporarily to a moderated list.
Combat-Announce at eGroups.com is a moderated, low-volume list for announcements of interest to "Combat!" fans. No discussion is allowed on this list (for that, see list above). Five or fewer messages per month. This list is for those who want to keep informed of happenings in Combat! fandom, but don't want the high traffic of the discussion list.
December: COMBAT! t-shirts and mugs on sale
October:
New on the COMBAT! web site:
August 28, 2000: Picture of Vic Morrow in Hell's Five Hours.
August 18, 2000: Tuskegee airmen books and facts
August 15, 2000: Special Effects used on Combat!
August 13, 2000: Article about Neville Brand, update to Book Store June 20, 2000: New picture for captioning
May 28, 2000: New picture for captioning
Pictures of Mission Vineyard, where the episode "The Hunter" was filmed.
Rick Jason appeared before a sell-out crowd on May 17, 2000 at the Museum of Television and History in Los Angeles. He was guest speaker at a viewing of Orson Wells' "The Fountain of Youth," which Rick Jason starred in.
Added feature to send Combat! e-cards
May 8, 2000: New picture for captioning from "Mountain Man"
New on the COMBAT! web site in April:
April 28, 2000: Want to send an electronic COMBAT! greeting? Click here.
April 25, 2000: New picture for captioning, Chicago TV Week cover with Rick Jason and Vic Morrow
April 19, 2000: Link to COMBAT! fan fiction site "Back to the Front"
April 13, 2000: New picture for captioning, Pierre Jalbert flashing bayonet at Franklin Canyon for the RECON '98 reunion
On April 8, 2000, about sixty friends and family of Dick Peabody ("Littlejohn") came together for a party in his memory in Placerville, California. Tina Peabody brought a scrapbook of Dick's life, which brought back many memories to all. There was much eating, much drinking, and Tina is sure that Dick was there in spirit, having a merry time along with everyone else. Here's to you, big guy!
Visit More Stories from the Front, a great fan fiction page written by Susan Balnek-Ballard. A different Combat! story appears monthly. (Apologies to Susan that I've taken so long to get your link up. Keep up the great fan fiction!)
Combat! theme music in AU format. (NOTE: File is 403 k, so will take a long time to download on most modems. If you wish to hear it more than once, please download the music and save it to your computer. That helps save our bandwidth. Thank you!)
New in February:
New in December:
Dec 27: Dick Peabody passed away.
Dec 17, new picture for captioning from COMBOAT! '96
New in November, 1999:
Nov 25, new picture for captioning from "Vendetta"
Nov 12, new picture for captioning from "The Prisoner"
Link to Purple Hearts, a Combat! fan fiction site.
The WWII news ticker that scrolled across the top of the main page has been removed, replaced by a static list of WWII news topics on the right hand side of this page. The news ticker, though looking very snazzy, interferred with older versions of browsers.
New in October, 1999
Oct 30: New caption, a color pic of the Sarge and Lt.
Oct 19:Captions have moved to new location. Yes, yes, yes -- this makes it easier to maintain, so new caption pictures should be updated a bit more frequently now. I appreciate all your patience and all your great captions! The new picture for captioning is from "One More for the Road."
New in September, 1999
MESSAGE BOARD REMOVED... please use the Forums for your messages from now on. This helps consolidate the website and brings the message center "under one roof."
Check out the VCR alert section of the Forums -- you'll find lists of things to watch starring your favorite COMBAT! stars, as well as listings for Encore schedule.
New picture for captioning: from episode "Masquerade"
Fellow fans Rob and Claudia dressen recommend: I just wanted to recommend a book to all the Combat! fans. It's called Donald's Story. It tells the true story of an Army Air Corp. pilot's experience in WWII. The pilot's niece wrote the book and she tells his story through letters that he wrote home. I have never read a book that gives you so many perspectives of the war both on a personal level and an historical one. It's one of the most touching stories I have ever read. All you P-51 fans will really enjoy the technical stuff! Truly a unique account.
ANNOUNCING RECON 2000 October 6th, 7th and 8th, 2000, Emerald Springs Holiday Inn in Las Vegas, Nevada
New in August
FORUMS: To post messages you have to register. If you encounter problems or have suggestions, please email me. This feature is not meant for general discussion; that should go to the discussion list — if you want to join the discussion list, send a subscribe request to combat-request@aurora.com. These forums are for permanent comments you want to share with your fellow fans. This lets the site and the reviews have many voices, rather than just one person's views.
New on July 25, 1999:
New picture for captioning: relaxing in France with Earl Parker
Added the email from Canadian History Channel
New recomendations in bookstore
New on July 11 and 12, 1999:
Added in June 1999
We have moved! Our new address is http://www.jodavidsmeyer.com/combat — please update your bookmarks.
New picture for captioning: Vic, Rick, and tank
New recommended reading in COMBAT book store
Added WWII news ticker ... Why? Because your webmaster finds it fascinating that what happened 55 years ago still resonates today. [Jun 12]
New picture for captioning, the Lieutenant out of uniform [Jun 6]
Added link to the Combat! Fan Fiction of Nathaniel Bridger [Jun 2]
Added in May 1999
Reports and pictures from April's mini-Recon with Pierre Jalbert
New episode review with pictures: Conflict
New picture for captioning
New picture for captioning (from "Missing In Action")
Updated S.I.W. review
New pictures added to the following pages:
Chat room has been removed from web site; if not already subscribed to our discussion list, please sign up for email discussions with your fellow fans.
New affiliate: Soldiercity, an online military store.
Moved the guestbook to a new site
Fix for Netscape 3 users
Added in April, 1999
Added in March, 1999
Episodes and times for Encore's COMBAT! Memorial Day marathon
New picture for captioning (Glory Among Men)

Added search feature to search our web site (see upper left corner of home page)
Share your COMBAT! memories in our guest book
New episode reviews: Ambush, Barrage, The Party, Gideon's Army
Additions to the bloopers list
Test your WWII weapons knowledge: take this quiz to see how well you can identify various weapons used on the television series (requires Javascript)
on-line shopping:
Added links to other fan sites of interest:
Added in February, 1999
New as of February 25:
New picture for captioning [Feb 11]
Ann Raymont's report on RECON '98
New episode reviews:
Pages updated:

Location filming at Korbel Winery
A letter from Rick Jason
Rick Jason videos for sale
Added in January, 1999
On-line Shopping:

Character profiles by Othello: